Details
Lock Latency Arbitrage allows you to open 2 opposite (buy and sell) orders on 2 different accounts for each trading symbol. It can be two different brokers or two different accounts with the same broker. When arbitrage situation appear, software closes opened order on symbol, applies trailing stop for corresponding virtual order, and opens new locking order on the other side when S/L or T/P is hit.
For example:
Symbol: GBPUSD
Price on fast broker: Bid: 1.35005 Ask: 1.35006
Price on slow brokers A: Bid: 1.35010 Ask: 1.35011
Diff to open on slow Broker: 3
Opened order(s) on broker A on GBPUSD: SELL
Arbitrage situation is detected for long position. Instead to buy, we will close SELL order and apply trailing stop to virtual BUY order (ticket number of virtual order will be the same as for closed order, but opening price will be the price at which original order was closed); An when the stop loss is hit, we will reopen SELL order on broker b. So now on Broker A we will have no orders on GBPUSD, and on Broker B we will have 2 orders – BUY and SELL. So now trading on GBPUSD will be performed only on broker B, and when long or short situation appears, one of the orders will be closed, and the other one will be locked on Broker A as the result of hidden S/L or (T/P).
Warning: We do not recommend using Lock Arbitrage with Manual Emulation add-on it on the Windows 2019 server as CPU usage increases significantly.
This algorithm helps to solve two major problems:
-To increase the lifetime of the orders and thereby camouflage the arbitrage trading;
-Replace the orders opening by the orders closure, and thereby reduce the time of execution and therefore slippage.
How Lock Latency Arbitrage Works - Video
Test with trade pause and manual emulation 2 live accounts
This test between 2 live account with manual emulation (broker can see manual trading and with trading pause =121s =2 min 1 sec )
Lock Arbitrage Real results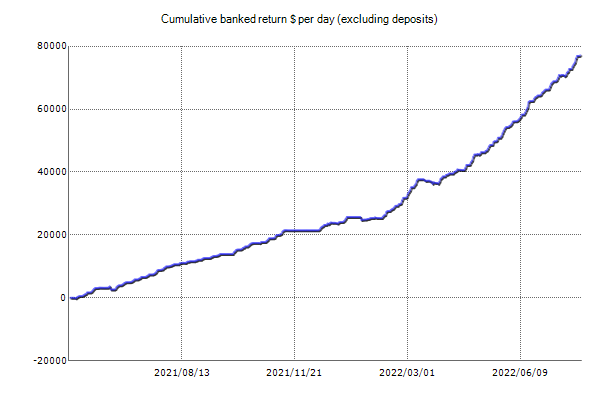 Test on 1 live account (locks buy and sell on 1 account)
Account 7
How Lock Latency Arbitrage is performing
Account #1
Account #2
Cumulative Profit on 2 Live Accounts (with withdrawal)
You may also be interested in the following product(s)