Details
Introduction
VIP Latency (1-leg) Arbitrage for MT4 Accounts is professional, fully automated software for Forex & CFDs & Indexes trading on MT4 accounts. This is actually a more sophisticated version of Latency Arbitrage provided by BJF Trading Group.

What makes this version more sophisticated? It has more functionalities and settings, it has a more efficient user interface; it also offers a faster connection to MT4 servers, which will help you stay ahead of other traders at all times.
Description
VIP Latency (1-leg) Arbitrage for MT4 Accounts allows you to compare price from our fast feed with slow broker price and opens order in corresponded direction to price difference.
What is Latency Arbitrage?
This is a common term in the world of high frequency trading, and very generally refers to the idea that firms don't all get the same information about publically traded stocks at exactly the same moment in time… some get it sooner and some later, and the difference is known as latency. Some trading firms spend fortunes to ensure they get the data first, and then profit from it by "latency arbitrage".

VIP Latency (1-leg) arbitrage will have following benefits:


Faster (approx. 30ms faster) connect to MT4 server;
Manual emulation mode with no loss of speed (all trades look for broker like manual trading activity);
Do not need to run and keep running MT4 terminals;
Low CPU usage;
Better logging;
Professional interface;
Systems for arbitrage activity camouflage
VIP Latency Arbitrage Interface
VIP Latency Arbitrage Activity Log
VIP Latency Arbitrage Telegram Alerts
VIP Latency Arbitrage Brokers Settings
Additional Strategies for Latency Arbitrage
Software works in 3 modes: 1 –-Normal ( standard latency arbitrage), 2 –Hedge, 3- Martingale.
In Hedge mode, the first order on instrument is opened in the direction of arbitrage. In Martingale mode, order is opened in reverse direction.
For both modes trailing is not performed. After the S/L is hit, in Hedge mode the system opens new order in the reverse direction of the last order on instrument, and in Martingale mode it opens new order in the direction of the last order (i.e. the first order in chain direction). The size of this new order is calculated by formula: last order in chain lot x Lot multiplier (1). Then the system applies stoploss to this new order according to the instrument settings, and we repeat the step 2) until total number of orders opened on the instrument is less than "Trade deep" parameter. No new orders are opened by arbitrage until the orders chain is not closed.
Attention: Lot multiplier should be not equal to 1 in Hedge or Martingale strategy, as it will confuse the system and lead to unpredicted results. Also take care if your broker accepts cumulative lot sizes calculated with the above formula (1).
The orders chain can be closed in 2 cases: In loss - by pair equity stop parameters; in profit - if the cumulative profit of all orders in the chain (doesn't matter if there is only one, two, three etc. order(s), i.e. not the maximum – "trade deep") is more than "Min Profit" value for the instrument and the all orders are opened for more than "Order lifetime" seconds. Please pay attention that for these 2 strategies Min profit parameter is not in points, but in currency units (controlling the "chain" total profit).
Example of system behavior (Trade deep = 4, S/L=50, Lot multiplier 2, Lot = 0.01)
| | | | | |
| --- | --- | --- | --- | --- |
| | Price | Hedge strategy action | Price | Martingale strategy action |
| Buy arbitrage situation() | 1.00000 | 0.01 buy@1.00000 | 1.00000 | 0.01 sell@1.00000 |
| S/L 1 hit | 0.00950 | 0.02 sell@0.00950 | 1.00050 | 0.02 sell@1.00050 |
| S/L 2 hit | 1.00000 | 0.04 buy@1.00000 | 1.00100 | 0.04 sell@1.00100 |
| S/L 3 hit | 0.00950 | 0.08 sell@0.00950 | 1.00150 | 0.08 sell@1.00150 |
Latency Arbitrage Real Account Monitoring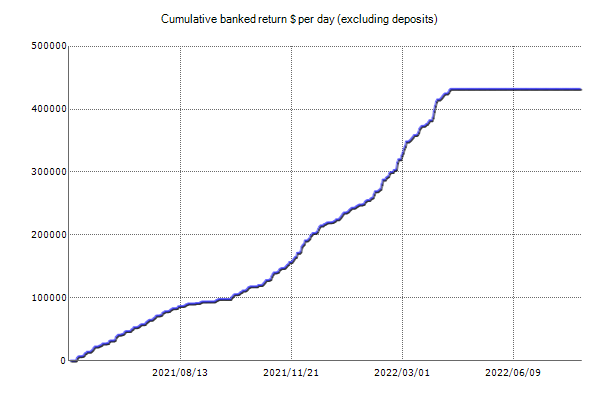 Latency arbitrage with Lock Arbitrage built-in strategy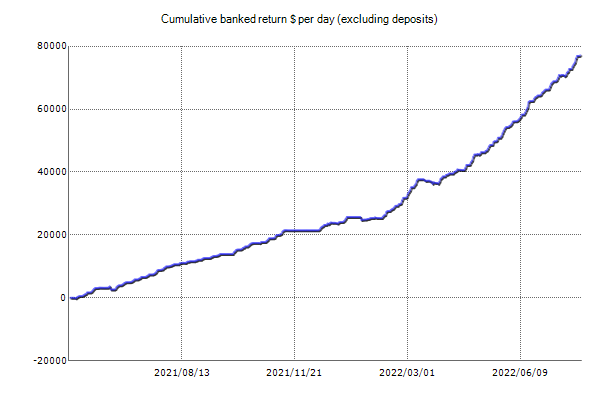 Latency arbitrage with LockCL Arbitrage built-in strategy
Latency arbitrage with LockCL2 Arbitrage built-in strategy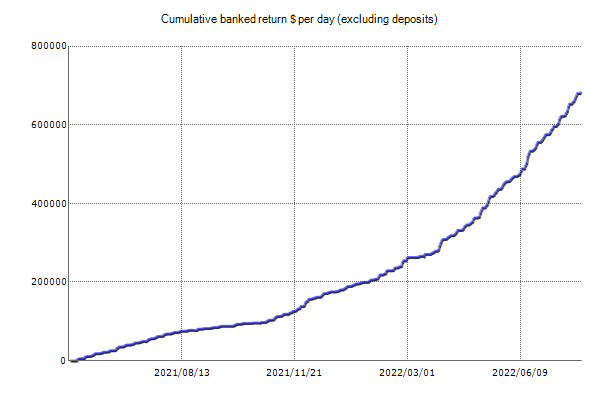 Real Account Monitoring: Deposit $10,000 / Withdrawal: $35,000